Magic – Balloons
About Funny Eddie
Funny Eddie is a former RIngling Brothers and Barnum and Bailey Clown, Magician Member of the Academy of Magical Arts, Juggler, Magic Teacher and Award winning Ballon Artist.
You can also find his twin at FunnyClaus.com
Book Funny Eddie for your birthday party, holiday party or corporate event. Online and in person.
Please Text the date, time, occasion, location, number of guests to:
310-350-6932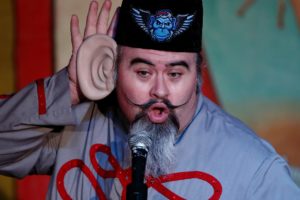 See What We Offer
Awsome Balloon Creations
Looking for more than swords and dogs? Eddie has you covered
Magic SHows
Eddie can provide a 20-45 minute show designed for kids of all ages.
Summer Magic Classes
Eddie Medrano (aka Zoltar) is the Magic director at Pali Adventures and teaches classes every summer Wanna send your kids to magic camp, please tell them Zoltar sent you with the code word "Zoltar Says". He also teaches private magic classes year round.